I have wanted to build a dining room table for just about as long as we've been planning the house. I could check pinterest for when I first started looking for designs, but that might be a bit depressing. BUT! In 2015 I not only built a table, I built a table that came out exactly like I hoped it would.
The biggest thing holding me back from building the table was that I was really nervous I would commit a bunch of time and money to something that I would end up hating. There are plenty of great looking DIY tables out there, but the majority of them look too DIY for my taste. I had in mind the sink cabinet that I built for the downstairs bathroom. It was a good idea, but I didn't have the skill or experience to execute it to the level that I want in my home. As I type this I realize I'm officially adding "redo sink cabinet" to my 2016 list. Which thanks to my wife asking a couple "Could we just..?" questions the other night already looks wildly different and might include a full bathroom cosmetic do-over.
Real quick detour on the fails of the sink cabinet (which sadly I can't find a photo of installed, because the best part is the awesome vintage sink on top):
I used 3/4″ for the fake rail/stile overlays, they're way too deep.
I didn't finish sand the side panels well enough and they are super rough
I used rough plywood for the drawers… they're ugly
I mounted the drawer slides on the bottom because the drawers were too big and I was too lazy to cut them down… yeesh, when did this turn into a confessional?
I once more than once ate an entire pizza for lunch (Wait, wrong type of confession.. but still sadly true.)
Okay, but the point is, that now that I've built more things and tried a few more plans from people online or come up with my own I now know more of what will or won't bother me. So when our old antique dining room table that we bought off craigslist for $30 was getting a bit too wobbly for my wife's tastes we decided it was time for me to pull the trigger.
I had some confidence built up from building a piece of furniture that sits in the main dining room / living room area for Shannon for Christmas last year, namely the cabinet that I will post about and link to later.. maybe. But I wasn't so sure about my ability to make a flat, good looking, stained table top. So I decided to hedge my bests by starting with a desk / console table / temporary dining table that will eventually be the home school desk behind our couches. The thought being that it would be cheaper than the table to build and if it came out crappy we could stick downstairs for the kids to use as a play table. Thankfully, it did not in fact turn out crappy. Yay.
We went back and forth on plans with room for cabinets under it or drawers, but eventually settled on wanting a knock off of this big ol' beauty from RH that we have always loved.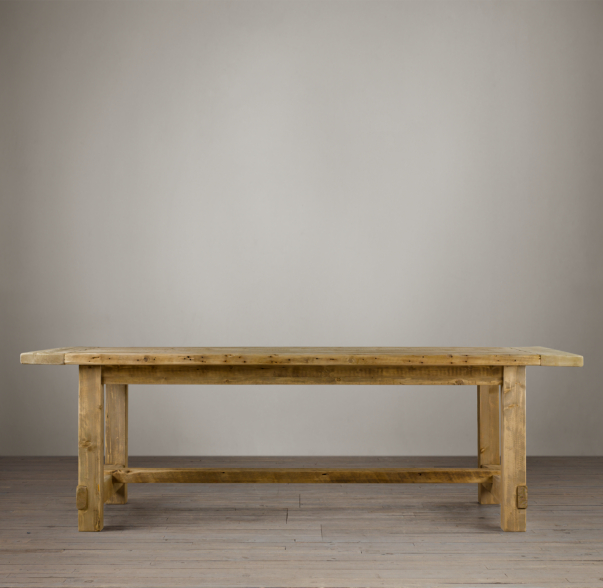 I made a sketchup plan to figure out what size material to use to get the proportions figured out. The material cost for the table was something in the range of $80 but my out of pocket costs were lower because of some merchandise credit gift cards I had from returning some of the ridiculous amount of unused project materials I bought. Seriously, I buy things WAY too far in advance and often have no use for them by the time the actual project rolls around. New resolutions: Stop buying things so far in advance! Stop obsessively quoting Air Bud movies, it's weird and no one gets the reference. Okay, maybe just the first one.
The plans are very similar to ones you can find on Ana White's site or elsewhere on the webs so I won't do too much step by step, just talk about somethings that I did differently.
First, I used 5/4 x 8 boards because I wanted square boards without the rounded edges and I was fine with the ~1″ thickness. One by boards were too thin. I used 8″ boards (actual 7.25 or something) because as much as I wanted really wide planks, I was worried about cupping with wider boards. Instead of pocket screwing, I just glued up the sides, not worrying too much about the ends lining up since I was going to trim it down later. I sadly don't have any pictures of the glue up, but it involved just applying a thin bead of glue to each side and some mild panic as I tried to get everything clamped with 5 bar clamps and no assistance. Fun times.
While the glue dried on the top, I cut the 4×4 legs to length, as well as the cross pieces. I upsized the cross piece on the bottom to a 4×4 with a half lap joint instead of using a 2×4, both to give the legs more bracing and to better support the stretcher. I also used 5/4 material for the apron, cut to 4″ high and then used 5/4 x 6 laid flat between the apron to screw up into the top. This beefier material really helped the table feel extra solid.
To cut recesses on the legs for the half laps, I clamped all of the legs together and used my circular saw to make a whole ton of passes back and forth.
Once those were cut I took a chisel and cleaned up the recess.
I did the same half lap on the stretcher and the bottom cross piece. In the photo above you can see my face marking, it kind of looks like a ribbon for one of the millions of charities that use indistinguishable (to me) colors. Is there a gray one for color blind awareness? That should totally be a thing. Veterans with PTSD, autism, AIDs, color-blindness, totally comparable.
When the top was done drying, I busted out the ol' hand plane. Now that I've actually taken a class or two on hand tools I had at least some hope that it wouldn't be a bloodbath.
At this point I finally breathed a sigh of relief that maybe, just maybe this was going to come out well. The planing wasn't perfect, and I definitely gouged it a bit here and there, but I was able to get the joints very flat and the overall tabletop very flat. Later, once I had the breadboard ends on, I was able to sand out any errant planing marks.
For the ends, I cut a groove with a table saw (taking a couple passes because I don't have a dado blade). I also left these long so that I could trim them after they were on. To cut the tenon, I used my circular saw (because I don't have a router… which is sad) and it came out… rough, but with a chisel and a plane I was able to get it to at least fit.
Once the boards were on, I glued the boards which was in hindsight not correct. The point of the tenon and mortise is to allow expansion of the top boards and there is supposed to be some sort of slot and pin system to keep the breadboard on. I might try that for the final table. After the boards were on and glued, I trimmed the breadboards down flush.
The "mortise" that I cut with the table saw went all the way through, but the tenon was no where near good enough to expose on the sides. So to cover up that little window I cut some faux tenon ends and glued them in. It's not perfect, but they finished up pretty nicely.
The darker area on the end grain is just water from where I was trying to get all the excess glue off. At this point I needed to see what things might look like so I put together a test fit and was getting even more excited.
I filled in some of the small gaps between the breadboard ends with some putty, filled the screw holes with some wood dowels and then did a final sand on the top and the leg structure.
And now came the moment of truth where I have botched more than a few projects: the finish. I was so excited with how square, flat and stable the table was that I was extra nervous that the finish wouldn't come out well. After the first coat of stain I was a little bummed. The difference between the legs and the top was much more pronounced than I hoped.
Shannon wasn't very happy with how light the top was, and I was certainly not excited by the difference in the apron / top versus leg tone. I took a brush and very carefully added a second coat to only the aprons and top to hopefully bring them closer, and I was PSYCHED by the outcome. Once I got a few coats of poly on the table, I brought this up in two pieces and attached it all up in the dining room.
The color isn't quite as "true" in this photo, mostly because I still stink at taking photos and I'm still using my phone.
The connection of the top was also a bit in question, since I don't have a router to make a groove and use clips as is recommended. Instead I used pocket holes on the apron, making sure to "widen" them for expansion of the top, and slots and screws with washes on the cross pieces.
Since it is eventually going to be a desk, the table is very narrow at 29″ wide, and in total is 84″ long. It works for now as a dining table, but most importantly it gave me the confidence that I can build a table that I will actually be happy with in the end.  So on the docket for 2016: a real dining table. Something farmhouse-y, but not quite so square and beefy on the bottom.